Videos on some of the ways you can use Streak:
You already live in your inbox; shouldn't your CRM?
Streak lets you keep track of all your deals right from your inbox. We let you group emails from the same customer together into one view and push that customer through your pipeline. When a new email comes in, you'll have all the context you need.
See all your deals inside Gmail
Want to see a holistic view of your customers or deals? We built a spreadsheet view right inside Gmail to let you edit your deals fast and create easy reports.
CRM. There's an app for that.
Not always in the office? Keep track of your customers while on the go. Make phone calls and send emails directly from the app. Keep track of the latest updates in the newsfeed.
Simple Sharing
Want to know who in your organization has talked to a specific customer? Want to see the emails that went back and forth? Want to know where the customer is in the sales pipeline? Streak makes it easy, letting you selectively share parts of your inbox and all the deals across your company.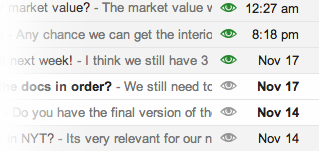 Tracking available in your inbox.
Streak email tracking shows the status of all your tracked emails right in your inbox. You'll see a green or gray "eye" icon right next to any email in any inbox list telling you whether the email is being read or not. Read more about email tracking in Gmail.
Snooze an email.
Streak allows you to snooze an email thread. This archives the thread from your inbox now and then brings it back to the top at a time you specify. Read more about Streak's Email Snooze for Gmail, also called Email Reminders for Gmail.
Schedule Emails to Send Later
Did you know the best time to send an email to a warm lead is Monday at 9:30am? Streak lets you write an email now and have it delivered whenever you want.
Split a Thread
Is Gmail's conversation view grouping emails together that you don't want to have grouped? Streak puts you in control and lets you fix that with its Thread Splitting feature.

Streak Plays Nice
Streak does not alter data in your Gmail account. No extra labels, and no moving around your messages. Streak adds a layer of organization on top of your email and stores this separately and securely in our own cloud.
Works With Google Apps
Streak is compatible with any of your Gmail accounts and you can use them across accounts simultaneously. Streak works on personal Gmail accounts or accounts provided by your organization, school, or business.